Achieve Your Fitness Goals
with

TESLA 4D Sculpt™
Experience the ultimate in body sculpting with TESLA 4D Sculpt™ at Dermaster Clinic. With cutting-edge HIFEM technology, this innovative machine delivers over 46,000 muscle contractions in just 30 minutes to target your abs, buttocks, thighs, and core muscles.
Transform Your Body with TESLA 4D Sculpt™ – Cutting-Edge HIFEM Technology for Optimal Muscle Building and Fat Reduction.
How TESLA 4D Sculpt™ works?
Generates magnetic fields that penetrate skin and fat to reach muscle tissue

Stimulates muscle fibers to contract & relax, similar to voluntary workout

Improves muscle tone & metabolism, increases fat burning

Precise targeting of specific muscle groups for effective sculpting

Non-invasive alternative to traditional exercise
      High-Intensity Focused Electromagnetic (HIFEM) technology works by generating magnetic fields that penetrate through the skin and fat layers to reach the muscle tissue. These magnetic fields generate electrical impulses that stimulate the muscle fibers to contract and relax, similar to a voluntary workout.
The repeated contractions and relaxations result in increased muscle activity and improved tone, as well as increased metabolism and fat burning.
The precise targeting of HIFEM technology allows for specific muscle groups to be targeted and effectively sculpted, providing a highly effective and non-invasive alternative to traditional exercise regimens.
Clinical studies show that the NEW Tesla 4D Sculpt can help you build muscle and reduce stubborn fat. On average, users have seen a 16% increase in muscle mass and a 19% decrease in fat after using the machine.

Why choose Dermaster?






Our Dermaster Headquarters based in the Heart of Bangkok covering nearly 2,000 sq.m; divided into 5 private beauty centers including Plastic Surgery center, Hair center, Anti-Aging center, Skin Laser and Aesthetics center, and Body center.
Our first priority is your privacy and comfort, so all of our treatment and procedures are performed in individual private rooms, where you will discover unique hospitality, total relaxation, and 5 star clinical experience like no others.
6 Quick Benefits of TESLA 4D Sculpt™

Treatment Areas
The TESLA 4D Sculpt™ can be used to target and effectively sculpt several key areas of the body, including:


Effect : 3 Sessions or more


How long : 30-40 Minutes


How often : 1-2 Sessions/Week


Down time : No Downtime
Frequently Asked Question
1. Does TESLA 4D Sculpt™ burn Fat?
Yes, TESLA 4D Sculpt™ has the capability to burn fat along with building muscle and sculpting the body. The high-intensity muscle contractions that it delivers in just 30 minutes can help increase metabolism and burn fat.
2. How does TESLA 4D Sculpt™ work?
The machine uses HIFEM (High-Intensity Focused Electromagnetic) technology to stimulate and strengthen the muscles, resulting in improved posture and a more toned physique.
3. Does TESLA 4D Sculpt™ safe?
Yes, the TESLA 4D Sculpt™ is safe for use and has been cleared by regulatory agencies for use in aesthetic treatments.
4. Does TESLA 4D Sculpt™ painful?
No, the treatment is non-invasive and should not cause any pain. Some patients may feel a slight tingling sensation during the treatment, but this is normal and typically well-tolerated.
5. How long is each treatment session?
Treatment sessions typically last 30-60 minutes.
6. How often should I use the machine?
The frequency of usage may vary depending on individual goals and physical condition, but it is typically recommended to have 1-2 sessions per week.
7. Are there any side effects?
No significant side effects have been reported with the use of the TESLA 4D Sculpt™ machine. Some patients may experience a slight redness or swelling at the treatment site, but these symptoms should resolve quickly.
8. Is there any downtime?
No, there is no downtime associated with the TESLA 4D Sculpt™ machine. Patients can return to their normal activities immediately after treatment.
9. How long does it take to see results?
Results may vary from person to person, but some patients may start to see improvement in their muscle tone and posture after a few weeks of treatment.
10. Is the TESLA 4D Sculpt™ machine suitable for everyone?
The TESLA 4D Sculpt™ machine is suitable for most individuals, but it is best to consult with a healthcare professional or a specialist at Dermaster Clinic to determine if it is right for you. Certain medical conditions or medications may contraindicate the use of the machine.
How to Start
We have certified doctors and physicists who are available at all time to deliver on-demand diagnoses and other beauty related services.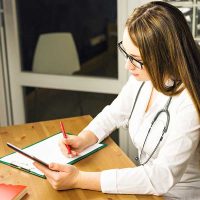 Application
Applicants can submit all health-related documents at our reception desk.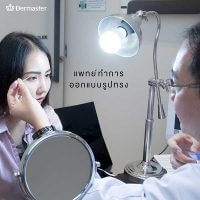 Check-ups
We will conduct a thorough examination of client's health condition.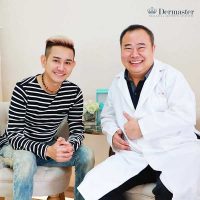 Consultation
Based on the checkup results, we'll give consultation on the needed action.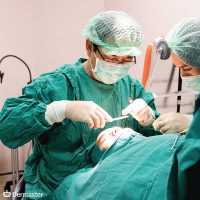 Treatment Scheming
Patients will be provided with a detailed treatment scheme.