Are you facing these problems?
Excess fat in limbs or belly since childhood no matter how much exercise was put in
Body proportions aren't balanced resulting in no visible waist line or over-sized hips
All can be remedied and adjusted easily by choosing "Vaser"

Vaser Introduction
Vaser Lip Selection Plus is a new technology that is able to dissolve fat just as effectively as fat removal surgery, but is less invasive and results in less side effects and symptoms, by directly targeting fat cells (LipoSelection) using ultrasound, dissolving the fat concentration into a more liquid form. This allows the fat to be drawn out smoother and easier, and doesn't damage or effect the surrounding tissues, blood vessels and nerve cells around the targeted area. It also reduces swelling and bruising post-surgery, and a faster recovery period. Vaser patients recover faster than general fat removal surgery patients and have less to no symptoms in the skin post-op. Areas where Vaser procedures can operate are; abdomen, hips, buttocks, thighs, knees, upper arms, back and waist.
Why should you choose Vaser at Dermaster?
New and 100% authentic Vaser machines approved by USFDA (United States Food and Drug Administration)
Operated by highly-skilled cosmetic surgeons accredited by the Society of Plastic and Reconstructive Surgeons of Thailand
Operations and surgeries are performed in medically international standard operating rooms.
Trained and experienced anesthesiologists present in the operating rooms throughout the procedure to reassure patients of their comfort and safety.
Intensive and close care performed by skilled nurses post-fat removal surgery.
Guaranteed safety and customer result satisfaction.
Fat removal surgery techniques that limit loosening and flabbiness of the skin.
Large concentrations of fat can be drawn out to satisfactory results




What is "Triple Layers" Surgical Technique at Dermaster?
Benefits of Liposuction (VASER)
Large volumetric liposuction at once
Skin retracts more quickly and evenly
Less Bleeding
Small Incision





Our Reviews



Benefits of Vaser
Excess accumulated fat is removed with minimal bruising and swelling compared to conventional fat removal surgery techniques. Slimmer and smaller proportions using Dermaster techniques results in tighter skin and a more balanced and proportionate body type that cannot be achieved by normal weight loss methods.


Effect : 4-6 months


How long : 4-6 hours


How often : -


Down time : 2 weeks
Frequently Asked Questions
01.

What is Vaser liposuction?
Vaser liposuction is a minimally invasive body contouring procedure that uses ultrasound technology to liquefy fat cells before they are removed from the body. It is designed to target stubborn areas of fat that are resistant to diet and exercise.
02.

How does Vaser liposuction work?
A minor device is inserted into the targeted region during the procedure. This tool emits ultrasound energy to break down fat cells, which are then removed from the body through small incisions using a cannula. Compared to traditional liposuction, Vaser liposuction is less invasive and results in reduced trauma, pain, and recovery time. At our hospital, we offer the Dermaster's Triple Layers Surgical Technique in combination with Vaser liposuction, which provides exceptional value for our patients.
03.

Is Vaser liposuction safe?
Like any surgical procedure, Vaser liposuction carries risks and potential side effects. However, it is generally considered safe when performed by The Society of Plastic and Reconstructive Surgeons of Thailand's qualified and highly experienced plastic surgeons. Patients should discuss the risks and benefits of the procedure with their surgeon before deciding if it is right for them.
04.

How long does Vaser liposuction take?
The length of the procedure will depend on the extent of the treatment area and the amount of fat that needs to be removed. In general, Vaser liposuction can take anywhere from one to several hours. On average at Dermaster, it normally takes about 2 - 4 hours of operation.
05.

What is the recovery time for Vaser liposuction?
Recovery time after the procedure can vary depending on its extent and the patient's individual condition. Although the usual recovery period is a few days to a week, some patients may experience swelling and bruising for several weeks. Nevertheless, Dermaster's Triple Layers Technique is available to significantly reduce both swelling and recovery time compared to other techniques. With our advanced approach, patients can experience a shorter and more comfortable recovery period, enabling them to resume their daily routines with ease.
06.

How much does Vaser liposuction cost?
The expense of Vaser liposuction may differ depending on various aspects such as the extent of the procedure and the expertise of the surgeon. At Dermaster, we advise potential patients to speak with our International Beauty Consultant to determine an estimate of the procedure's cost. A final consultation with the surgeon will then allow for a conclusive price for the treatment.
07.

Can Vaser liposuction be used to treat obesity?
Vaser liposuction is not a weight loss procedure and is not recommended for treating obesity. It is designed to target small areas of stubborn fat that are resistant to diet and exercise.
08.

What areas of the body can be treated with Vaser liposuction?
Vaser liposuction can be used to treat a variety of areas on the body, including the abdomen, hips, thighs, calves, arms, back, and chin.
09.

How long do the results of Vaser liposuction last?
The results of Vaser liposuction are generally long-lasting, as long as the patient maintains a healthy diet and exercise regimen. However, the remaining fat cells in the treatment area can still expand, so weight gain can affect the results.
10.

What are the potential risks and side effects of Vaser liposuction?
The potential risks and side effects of Vaser liposuction can include bleeding, infection, scarring, contour irregularities, and anesthesia complications. Patients should discuss the potential risks with Dermaster's surgeons before deciding if the procedure is right for them.
How to start
We have certified doctors and physicists who are available at all time to deliver on-demand diagnoses and other beauty related services.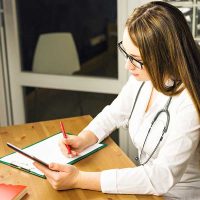 Application
Applicants can submit all health-related documents at our reception desk.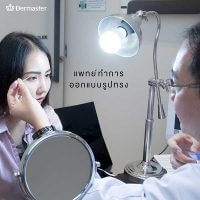 Check-ups
We will conduct a thorough examination of client's health condition.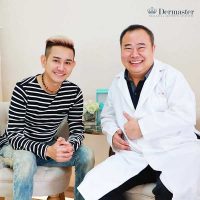 Consultation
Based on the checkup results, we'll give consultation on the needed action.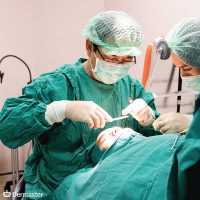 Treatment Scheming
Patients will be provided with a detailed treatment scheme.