Are you facing these problems?
Single eyelid but want a double eyelid
Trouble opening and closing your eyes
Asymmetrical or unbalanced eye level
Eyes disproportionate to facial shape
All can be remedied and adjusted easily by choosing 'Upper Eyelid Surgery'

Upper Eyelid Surgery Introduction
The eyes are the window to your heart and soul because it is the organ that can communicate several emotions and feelings such as happiness, sadness, love, sorrow, and anger, but if you have ptosis (droopiness of the eyes) or eyes disproportionate to the face, it may cause you to look unhappy, sulky or unlikeable. The eyes are the instruments of the face that can communicate meaning and emotions, no matter what the beholder of the eyes feel, eyes can convey true sentiment and intentions. Therefore, the eyes are an important component for grabbing attention.
Today, popular eye characteristics come in many forms. Some people like to have large round eyes which consists of double eyelids. Of course, these forms became an attention-grabbing and popular charm amongst young women and even men. Those with single eyelid or unattractive eyelids often
tend to find ways to make their eyes look more beautiful and desirable.
Nowadays, the double eyelid correction surgery allows you to have big and round eyes with attractive shapes and natural charm, as well as help build your self-confidence while socializing, and applying cosmetics easier. For those who do not have double eyelids, may in fact have hooded eye
lids. For those who want to have double eyelids, they must first consider if they have no layered eyelids, or if they do have double eyelids but have excess skin on the eyelids which inhibits their vision. This is known as 'hooded eyelids' and can be checked by looking in the mirror and raising
your eyebrows together.
In the case of hooded eyelids, which are actually double eyelids however with excess skin from the upper eyelid that hangs over the double eyelids. The reason for this is because the distance between the eyebrow and the eye is very narrow, or may be caused by puffy eyelids that fall down and cover
the double eyelids, or could be excess fat around the eye. Surgical incisions are very small, approximately 1 millimeter, leaving no scarring and do not require further surgery.
Additionally, if patients are still concerned about pain, bruising, or infection, there is no need to worry as chances of infection in areas around the eye are very low, because no foreign object enters the body during this procedure, as the procedure uses the patient's own tissues. In the event of an infection, patients will able to take oral medication and the infection will be treated and healed within a few days. In addition, the skin and tissues around the eye have a higher circulation of blood than several other parts of the body, therefore prompting quicker healing times.
Surgeons will administer a numbing agent and medicine to relax and calm the patient, allowing the patient to not feel pain during the surgery. For patients with droopy eyelids or excess skin, the surgeon will surgically remove a small portion of the eyelid and create a double eyelid according to the balance, position and proportion of the face. This is because some patients' faces are more suitable with think and large eyelids, while some patients' are more suitable with smaller and slick eyelids. The surgeon will surgically lift the muscles around the eyelids and create a double eyelid layer by sewing a new eyelid layer with a small silk thread, and then hide the incisions in the eyelid crease that has been created. This procedure takes approximately 1 hour and patients are able to recover at home.


Why should you choose Upper Eyelid Surgery at Dermaster?
Eye consultation with a surgeon with the use of the Vectra 3D face outlining machine.
Using Dermaster's special surgical techniques, patients will acquire lively-looking, glowy eyes and slick double eyelids.
Operations and surgeries are performed in medically international standard operating rooms.
Operated by highly-skilled cosmetic surgeons accredited by the Society of Plastic and Reconstructive Surgeons of Thailand
Naturally looking eyes appropriate to facial structure and proportions.
In addition to double eyelid surgery, expert cosmetic surgeons will shape the appropriate eye shape to match the patient's facial structure, and can be performed in conjecture with other procedures using advanced techniques whether it is an epicanthal fold, extensional
lateral canthoplasty, eye fat repositioning, fat removal or eyelid augmentation.




Result & Duration
Benefits of Upper Eyelid Surgery
Lively and bright eyes, balanced double eyelids on both eyes, fixed droopy eyes, beautiful eye shapes, change in facial proportions and structure, more noticeable eyes and face, no more sulky or unhappy looks from droopiness or ptosis, more youthful face, change from a normal Asian look to a more international Asian look
Upper Eyelid Post-Op Treatment
Do not rub or scratch or rub the operated area.
Keep the forehead and regions around the eye cool during the first 2 days after surgery.
24 hours after surgery, apply medical ointments around the operated area prescribed by the attending doctor.
Take antibiotics and anti-inflammatory medication, and painkillers if needed.
Patients can wash their face and apply a thin layer of make-up 3 days after surgery.
Patients should sleep with their heads elevated at a 45 degree angle during the first 7 days.
Patients can start reading 2-3 days after surgery, and able to return back to work as usual within 5-10 days after surgery.
Patients can start wearing contacts within 2 weeks (Must be approved by the attending doctor).
Swelling and bruising will gradually fade within 2-3 weeks.
Swelling after surgery lasts for about 3 days and will start to fade around the 4th day. Results will start to flourish around the 4th week after surgery until approximately 3 months, with occasional side effects such as bruising, which is normal, and will fade after 2-3 weeks. In
some cases, eye levels may seem unequal or unbalanced due to uneven swelling during the early stages after surgery. Eye levels and eyelids will balance out after the swelling fades.
Patients may apply cosmetics normally 1-2 weeks after surgery.
Strictly follow medical instructions and take medication prescribed by the attending doctor.


Effect : decrease in swelling begins on the 4th day after surgery. Eyelid surgery results start to flourish within the 4th week until approximately 3 months after surgery.


How long : 60 minutes


How often : -


Down time : 5-10 days
How to start
We have certified doctors and physicists who are available at all time to deliver on-demand diagnoses and other beauty related services.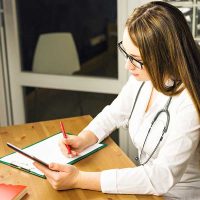 Application
Applicants can submit all health-related documents at our reception desk.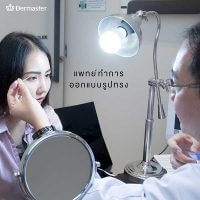 Check-ups
We will conduct a thorough examination of client's health condition.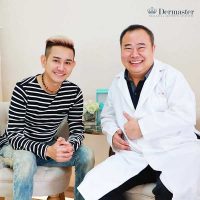 Consultation
Based on the checkup results, we'll give consultation on the needed action.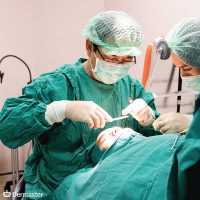 Treatment Scheming
Patients will be provided with a detailed treatment scheme.