Are you facing these problems?
Family of cancer patients
Health concerns inadequate rest
Who like to eat healthy foods such as grilled, fried, desserts on a regular basis
Smoking, drink alcohol, play drugs heavily
People with stress all the time.
All can be remedied and adjusted easily by choosing "Tumor Marker"

Introduction
Did you know, in the blood test for cancer, what did they checked?!
Various blood tests for cancer such as CEA, CA 15-3, Alpha-fetoprotein, etc., which we hear from various blood testing programs, is the directional of Tumor marker (cancer markers). Can you actually find cancer? "
The Tumor Marker that should be known as Alpha-fetoprotein (AFP) is an antigen in the oncofetal antigen group. It creates by the epithelium of the yolk sac. Liver cells and the digestive tract of the baby in the mother's womb with the highest level in the blood for about 13 weeks of the fetus. After that, there will be a rapid decrease in volume after birth. Until the level is normal in adults within 2 – 3 weeks after birth. Thus, AFP is high in children in the womb, mother, newborn and pregnant women who are pregnant for 2 months or more. Especially if the baby in the womb has a neural tube defect it can detect AFP in the mother's blood and in the amniotic fluid, which is 2 to 3.5 times higher than the normal pregnancy level. People can detect AFP at a low level.
AFP is usually much higher than normal in liver cancer patients (hepatocellular carcinoma) and ovarian cancer and/or embryonal cell carcinoma testicles
. It may also found in higher levels of lung cancer and cancer of the gastrointestinal tract. The AFP levels that are often detected are related to the stage of cancer.
In early-stage cancer, AFP is usually found only
slightly
higher but will be higher in sequence in end-stage cancer
In addition
, AFP may found in other liver disease patients, non-cancerous but the level is not very high
.
AFP is a Tumor Marker that has accepted for liver cancer detection in high-risk populations
.
Including chronic hepatitis, hepatitis B carrier, cirrhosis, etc. It is recommended for repeated tests every 3 – 6 months and/or together with ultrasound examination of the liver
.
Why should you choose Tumor Marker at Dermaster?
Dermaster has a team of specialists specializing in cancer-marker detection. We have equipment and technology, our test has the standard level that made the test results have the slightest mistake.



Result & Duration
Carcinoembryonic antigen (CEA)
It is another antigen in the oncofetal antigen group. which is produced from the intestinal cells, liver, and pancreas of the fetus with a gestational age of 2 – 6 months. In a normal person, it can find a slightly higher level of CEA in smoking people and women with gestational age not more than 6 months. Including in patients with inflammation of the gastrointestinal tract, lungs, and liver, but the level is usually not very high.
CEA often increases abnormally in patients with cancer of the gastrointestinal tract, pancreatic cancer, breast cancer, lung cancer, ovarian cancer, etc. In particular, people with colon cancer found a very high level in CEA and more often than other types of cancer.
Prostate-specific antigen (PSA)
It is a type of protease enzyme that is
primarily
produced from the epithelial cell of the prostate gland
. It can also create in the urethra (para-urethral gland) cells so the low level of PSA may found in women as well.
It can detect PSA levels higher than normal in both prostate cancer and non-cancerous prostatic hyperplasia
. (benign prostatic hyperplasia, BPH). PSA is another type of Tumor Marker that has accepted for prostate cancer screening.
In men aged 50 years and over, it is recommended to check PSA together with the examination of the digital rectal examination and should have a blood test before performing an anal examination
.
Due to any action to the prostate gland, such as palpation, it will release PSA from the prostate gland more than usual
. As a result, the PSA level is higher than it should be.
At present, there are
additional
tests that can increase the specificity of a prostate cancer diagnosis without reducing the sensitivity of the test
. It is the test called Free PSA: Total PSA ratio.
CA 125
It is a glycoprotein, protein that is finding on the skin of cells that originate from embryonic coelomic epithelium cells
.
CA 125 is often high in non-mucinous type ovarian cancer. Including pancreatic cancer, lung cancer, gastrointestinal cancer, liver cancer, etc.
In addition
, CA 125 may found higher than normal in pregnant women.
Including patients with inflammation of the abdomen (peritonitis) and internal organs of the abdomen, pancreatitis (acute pancreatitis), cirrhosis, pelvic inflammatory disease
.
CA 19-9 is a carbohydrate antigen, the antigen that can be detected in normal cells and many cancer cells such as gastrointestinal cancer, liver cancer, lung cancer, breast cancer, etc. CA 19-9 is the best Tumor Marker in Diagnosis and follow-up treatment Pancreatic cancer, and cancer of the bile duct (cholangiocarcinoma)
.
It can also found in higher levels of inflammatory diseases of the liver, pancreas, bile ducts and gallbladder
.
CA 15-3
CA 15-3 is a glycoprotein, which has a higher level in many cancers such as breast cancer, gastrointestinal cancer, liver cancer, pancreatic cancer, lung cancer, ovarian cancer, etc
.
CA15-3 is often used to help diagnose metastatic breast cancer and recurrence of the disease after treatment
. Not
commonly
used in early breast cancer diagnosis.
Beta-human chorionic gonadotropin (beta-HCG)
It is a type of hormones.
The beta-HCG has a high level in pregnant women, but it is very high in molar pregnancy, cancer of the endometrium (choriocarcinoma), ovarian cancer or teratogenic carcinoma
. Some lung cancer patients can
be detected
beta-HCG higher than normal. In normal people, beta-HCG is using as a marker for pregnancy monitoring.
Neuron-specific enolase (NSE)
It is a type of glycolytic enzyme that is usually found to be higher than normal in cancer originating from cells in the nervous system and endocrine systems
. (neuroendocrine) such as lung cancer, small cell lung cancer, neuroblastoma, and pheochromocytoma.
NSE is considered the best Tumor Marker to help diagnose and
monitor
treatment results of small cell lung cancer which is lung cancer with severe prognosis
.
…It can
be seen
that Many cancer markers can
be detected
in normal people while not detecting abnormalities in cancer patients
.
Therefore
, selection and interpretation of cancer markers need to act with caution and must be carried out by specialized experts
.


Effect : -


How long : 30-45 minutes


How often : 12 Months


Down time : No recuperate
How to start
We have certified doctors and physicists who are available at all time to deliver on-demand diagnoses and other beauty related services.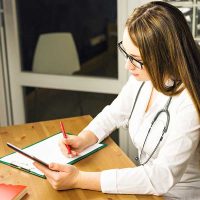 Application
Applicants can submit all health-related documents at our reception desk.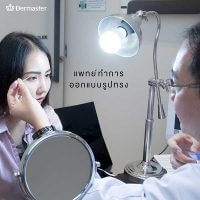 Check-ups
We will conduct a thorough examination of client's health condition.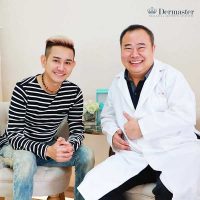 Consultation
Based on the checkup results, we'll give consultation on the needed action.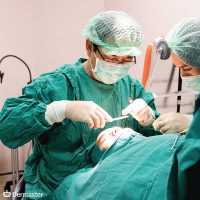 Treatment Scheming
Patients will be provided with a detailed treatment scheme.